UPAIIA President
Scott Lyman
(Iron Range Agency, Ishpeming)
B
L
A
I
S
E
W
I
N
T
E
R
Highlight Speaker
BLAISE WINTER, former Green Bay Packer, truly reached the inner souls of the 2003 Convention attendees.
Blaise spoke from the heart about his life changing experiences. He gave a clear message on how each and every person can make a difference, what it takes to stay in the game, and the importance of living for the moment.
Other sessions included
"Pardon My Garden" presented by Tony Quist of Bark River
and
"Get into the Swing-Golf Tips"
presented by golf pros, Kevin Manninen and Marc Gilmore of the Marquette area.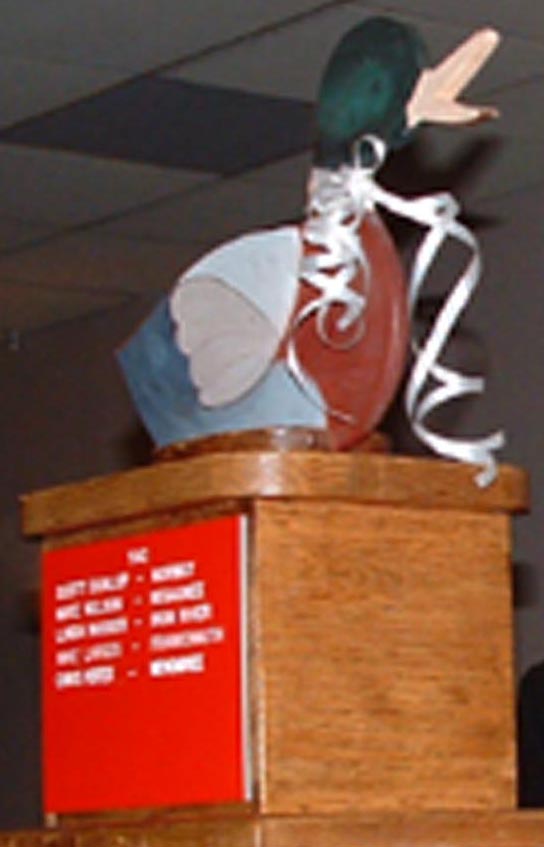 The
2003 U.P.Y.A.C Award
recipient, Bill Caley Jr.
(Twin City Insurance - Menominee)
was not present to
receive this glorified award.
Where was Bill?
Your guess is as good as any!
Dennis Garrison
(Rye Agency-Rogers City)
smiled as he received the "Apple Knocker" Award for his many years of attending the Upper Peninsula Convention as a Lower Peninsula Agent.
J
A
N
I
C
E
Simbob entertained the banquet crowd with several vocal selections
Paul and Lori Dzik
teamed U.P. as the 2003
Convention Coordinators
On a more serious note...
presentations to the
Michigan Association of Independent Agents
by the U.P. of Michigan
Association of Independent Insurance Agents
(left picture)
CJ Heidisch (MAIA Executive Committee Treasurer)
accepted a $1,000 UPAIIA donation in the memory of Shawn Brown, to be applied toward scholarships in the area of insurance.
(right picture)
Mike Larges (MAIA Immediate Past President)
accepted $5,000 from the UPAIIA to help defray expenses promoting AgentPAC.